Get Involved
Ways to Give
Donating to AASLD is quick, easy and impactful. Consult your financial advisor to determine which of the below giving options is best for you:
Outright Cash Gifts
Appreciated Securities
Pledged Gifts
Employer Matching Gifts
Gifts of Life Insurance
Planned Gifts
Charitable Trusts
Donate today or contact us at Foundation@aasld.org to discuss your giving options.
Become a Campaign Leader
Have you already supported Tomorrow's Cures with a donation, and now you are looking to do more? We have opportunities for you to become a campaign leader, so you can share your passion and commitment to funding tomorrow's cures for liver disease today.
As a campaign leader, you will be one of our most important champions. And, all you have to do is be willing to share the campaign – and the work of AASLD Foundation – with your colleagues, contacts, friends and family. By simply sharing your reasons for giving and asking others to join you in your efforts, you will an extended your impact beyond that of your donation.
If you are interested in the opportunity to become more involved in the Tomorrow's Cures campaign as a campaign leader, contact Julie Wolfe, director of development, at jwolfe@aasld.org.
Your Impact
Your support of the Tomorrow's Cures campaign will have tremendous impact on the future of patients and the field of hepatology. With your support, we can make great strides toward a world without liver disease.
By joining the Tomorrow's Cures campaign, you will help us: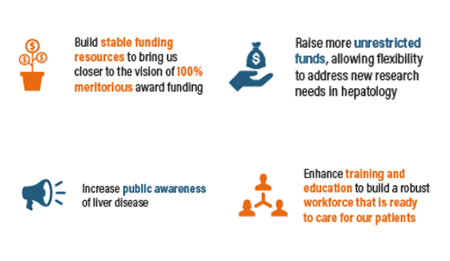 Our Promise
AASLD Foundation prides itself on being thoughtful stewards of your donation. In fact, 87 percent of your gift to AASLD Foundation and the Tomorrow's Cures campaign will directly support our programs, the goals of this campaign and our overall mission.