Sanjiv Harpavat, MD, PhD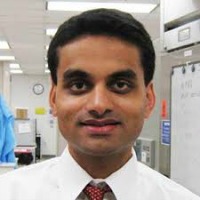 When Sanjiv Harpavat, MD, PhD completed his fellowship in pediatric gastroenterology at Baylor College of Medicine in 2012, he began to focus on understanding pediatric liver disease. "In pediatric hepatology, there are so many unknowns," he says. "In order to really improve the field, we need research and investigation."
By the time Dr. Harpavat received his first award in 2015 (the Jan Albrecht Clinical and Translational Research Award in Liver Disease, a two-year $150,000 award) he had already started research into biliary atresia in children – specifically focusing on a new way to detect this condition in its earliest stages.
"Biliary atresia is the most common indication for liver transplantation in children, and the only way to delay or even avoid transplant is by diagnosing and treating infants early," he says. "Unfortunately, infants are often diagnosed later, because there is no systematic way to identify infants. We wanted to develop an easy screening method that could be used universally on all newborns to detect biliary atresia earlier."
As a young investigator, Dr. Harpavat benefits from the AASLD Foundation, which specifically seeks out researchers early in their careers so it can not only invest in their research, but serve as a career-long resource for them.
Through AASLD Foundation funding, a significant amount of Dr. Harpavat's time was protected for research, which allowed him to focus on the unknowns in pediatric hepatology while developing an independent and productive research career. "This type of funding really makes a difference in the long run for improving how we take care of kids with liver disease," he explains of the Foundation's investment in his research. "And, the AASLD Foundation provided a clear path to fund my research testing a novel newborn screening strategy for biliary atresia."
Since receiving his first AASLD Foundation award, Dr. Harpavat has received the Baylor College of Medicine Junior Faculty Seed Funding and he is applying for a K23 Award. His research has successfully screened thousands of infants in the study hospitals, and preliminary results were recently published as a letter in the New England Journal of Medicine. The initial funding has helped Dr. Harpavat build a foundation for future clinical and translational studies into detecting biliary atresia earlier, with the ultimate goal of reducing the high burden biliary atresia currently places on pediatric liver transplant waiting lists.
Additional Funding and Publications
2015 AASLD Foundation Jan Albrecht Clinical and Translational Research Award
Newborn Direct or Conjugated Bilirubin Measurements As a Potential Screen for Biliary Atresia. J. Pediatr. Gastroenterol. Nutr. Sanjiv Harpavat, Ramya Ramraj, Milton J Finegold, Mary L Brandt, Paula M Hertel, Sara C Fallon, Ross W Shepherd, Benjamin L Shneider. 2016 Jun;62(6):799-803
Newborn Bilirubin Screening for Biliary Atresia. Harpavat S, Garcia-Prats JA, Shneider BL. N Engl J Med. 2016 Aug 11; 375(6):605-6.
An infant with persistent jaundice and a normal newborn direct bilirubin measurement. Harpavat, S., Devaraj, S., Finegold, M. J.; Clin. Chem. 2015 Jan 30
NIH/NIDDK K23 DK109207: Assessment of a Novel Newborn Screening Tool for Biliary Atresia
Not an all-inclusive list of funding or publications.