Monika Sarkar, MD, MAS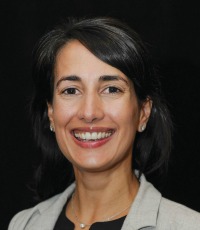 Dr. Monika Sarkar began her journey into hepatology as a resident on liver service. "I was quickly drawn to the regenerative capacity of the liver, as well as the clinically apparent pathophysiology of progressive liver disease," she states. "The remarkable, overnight transformation of patients after liver transplant was unparalleled to any intervention that I had witnessed in medicine."
Following her residency at the University of Pennsylvania, Monika's path to a career in hepatology led to the University of California, San Francisco, where she completed her three year gastroenterology fellowship, during which time she also received her Master's degree in Clinical Research.
In 2012, Monika pursued her fellowship in transplant hepatology, and received her first AASLD Foundation award, the Advanced/Transplant Hepatology Fellowship. This one-year award supports GI fellows pursuing the additional year of specialized training to be eligible for certification in transplant hepatology by the American Board of Internal Medicine (ABIM) or American Board of Pediatrics (ABP). During her Advanced/Transplant Hepatology Fellowship Award, she remained productive in clinical research, publishing three first author manuscripts, presenting a poster with the Presidential Poster of Distinction recognition at The Liver Meeting® 2012, and establishing her focus on chronic liver disease in women.
Immediately following her Advanced/Transplant Hepatology Fellowship, Monika received her second AASLD Foundation award, the Sheila Sherlock Clinical and Translational Research Award in Liver Diseases, for her research project Racial/ethnic Differences in Fibrosis Progression in HIV/HCV Co-Infected Women Using Non Invasive Markers of Fibrosis. Under this award, Monika was able to protect a substantial portion of her time for research and remain productive in first authored publications. Importantly this period in her career was marked by the advent of revolutionary treatments for hepatitis C, which also resulted in fewer long-term funding opportunities for junior investigators pursuing hepatitis C research. The protected time provided by the AASLD Foundation was therefore critical in allowing Monika to successfully navigate a shift in her career from hepatitis C in women to her burgeoning career focused on women with Non-Alcoholic Fatty Liver Disease (NAFLD). During the period of AASLD Foundation funding, Monika successfully competed for four additional institutional grants to fund her work in NAFLD in women, allowing her to establish the necessary preliminary data and track record for her successful NIDDK K23 submission.
When asked about the impact of AASLD Foundation funding on young investigators Monika states, "Certainly when you begin – when you embark on your early career in hepatology – you can't simply jump into an NIH funded pathway. You need preliminary data, a track record, demonstration of productivity with your team … the whole package. But in order to develop that foundation, you require early career development support from organizations like the AASLD Foundation. I am proud to have recently received my K23 and would not have been poised for this next phase in my career without the support of the AASLD Foundation. Early investment in junior investigators eventually pays off in spades!"
Dr. Sarkar is currently in her third year on faculty as an Assistant Professor in GI/Hepatology at the UCSF School of Medicine. She has been ABIM certified in transplant hepatology since 2014.
AASLD Foundation Past Awards
2012 Advanced Transplant Hepatology Fellowship
Research project: Lower liver-related death in African-American women with human immunodeficiency virus/hepatitis C virus coinfection, compared to Caucasian and Hispanic women
Research location: University of California, San Francisco
2013 Sheila Sherlock Clinical and Translational Research Award
Research project: Racial/ethnic Differences in Fibrosis Progression in HIV/HCV Co-infected Women Using Non Invasive Markers of Fibrosis
Research location: University of California, San Francisco
NIH / Other Awarded Grants
UCSF Liver Center Flex Funds / August 2015
The Impact of Androgens on the Natural History of Nonalcoholic Fatty Liver Disease in Reproductive Aged Women
UCSF Liver Center Pilot Feasibility Award / June 2014
Non Invasive Assessment of Steatosis and Fibrosis Assessment Using Fibroscan-CAP in Women With Polycystic Ovarian Syndrome (PCOS): A Prospective Study
NIH/NIDDK K23 DK111944:
Androgens and Nonalcoholic Steatohepatitis: The Role of Male Sex Hormones in Women With NASH
"There is no way that we can really make it to the next step and move forward as a group, as this united front in hepatology without funding."