Amir Zarrinpar, MD, PhD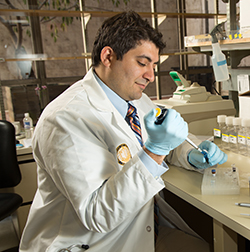 At the Zarrinpar Lab in La Jolla, California, Amir Zarrinpar, MD, PhD and his team are delving into the dynamic processes involved in gastrointestinal disease development.
Research like the important work of Dr. Zarrinpar is time-consuming and expensive, but it can yield ground-breaking results. To achieve these results, there must be funding. In 2014, Dr. Zarrinpar turned to AASLD Foundation as a source of funding for his work.
"The invaluable support of AASLD Foundation is crucial. There's no question that AASLD Foundation Liver Scholar Award was instrumental to helping me continue and succeed in the work that I've been doing. These awards are bold investments in a healthier future, and they enable researchers like me to spend the time necessary to explore complex disease processes and pursue groundbreaking knowledge," explains Dr. Zarrinpar of the importance of AASLD Foundation.
Dr. Zarrinpar started his medical training in neurosciences, but recently shifted his focus to metabolism. "What drove me to make this change was seeing how many patients were being affected by the obesity epidemic," explains Dr. Zarrinpar. "The first patient who died under my care was a patient with NASH cirrhosis, and I was frustrated that there wasn't — and still isn't — any good medical treatments to help him."
After completing his fellowship at the University of California, San Diego in 2013, Dr. Zarrinpar did post-doctoral training at the Salk Institute and then was recruited back at UCSD where he now serves as Assistant Professor and Principal Investigator of the Zarrinpar Lab.
It is in this lab where Dr. Zarrinpar's team is contributing to the exciting and promising body of research conducted on the gut microbiome. More specifically, Dr. Zarrinpar's team is researching how the intestines and their contents — including the microscopic bacteria in the foods we consume each day — interact, and how this interaction is dynamic, changing based on what and when you eat. His team studies how these constant interactions drive normal gene expression in the gut, as well as the processes of nutrient absorption and sensing, and gene signaling involved in diseases like steatohepatitis.
As a recipient of the AASLD Foundation Liver Scholar Award*, a significant amount of Dr. Zarrinpar's time was protected over the course of three years, so he could focus on research. "This award really provided the gift of time, allowing me to learn state-of-the-art basic science techniques and apply them to clinically important questions," he says. "AASLD Foundation's support for research like ours is nothing short of courageous. In the past, few would have acknowledged any links between gut bacteria and liver disease, or awarded grants to support such research. When we first applied for this award, scientific dogma was that the microbiome was stable over period of years and that it rarely changed. Now, we begin to see how tiny organisms play a dynamic role in the disease process, and we hope to harness their power to protect our patients from organ damage."
* Note: 2014 was the last year the AASLD Foundation Liver Scholar Award was offered. The Foundation now offers the Pinnacle Research Award for basic science researchers.
Additional Funding and Publications
2014 AASLD Foundation Liver Scholar Award Recipient
NIH/NIDDK K08 DK102902:
The Relationship of Gut Microbiome and Time Restricted Feeding in Metabolism
NIH/NIDDK R03 DK114536:
The Effects of Bile Acid Conjugation Through Engineered Probiotics on Gut Luminal Signaling and Metabolism