Kimmy's Liver Research Fund
Kimmy's Liver Research Fund was established in 2018 by Hoss Said, MBA, in honor of his former wife, Kim Ostrom. The fund will support AASLD Foundation's Research and Career Development Awards, which invest in early-career and established researchers who are developing innovative treatments for liver disease.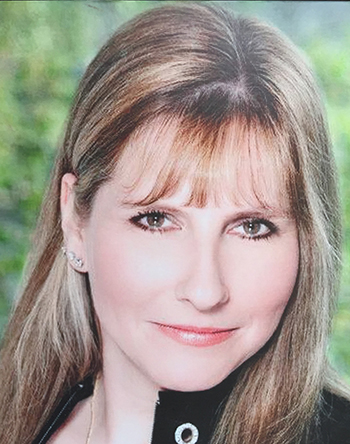 "This Fund is all about Kim," said Mr. Said. "She had a great influence on our daughters and family – I wanted to create something to honor her memory. We separated in 2010 but remained friends – she will always be a part of our family. While I cannot bring Kim back, I know I can create more awareness about liver health and help to support research and training for liver disease through the AASLD Foundation's programs.
Kim was born on June 23, 1967 in Winnipeg, Manitoba. She loved her family and always worked to support them. In 1997, Kim moved from Vancouver to San Diego to work with and build a better relationship with her father, Dale. In 2010, when Kim's mother was diagnosed with cancer, she did not hesitate to move back to Vancouver to take care of her until she passed in 2012.
"Kim was a super woman in her heart and had kindness for everybody. She loved Elvis and remembered everyone's birthday. During the years of our marriage, she was an outstanding stepmom to my two daughters. She treated them as though they were her own. Kim had such a positive impact on my family, and I wanted to make sure I created something that would show she is appreciated in the afterlife as much as she was in life," explained Mr. Said.
"She was the most special person who ever walked into my life, and I know others will agree," explained Kiana Said, Kim's stepdaughter. "Knowing if someone were to read this and think to seize every moment with their loved ones, that's all that matters. Kim is a guardian angel for everyone she loved and I'm so thankful for everything she has ever given me." Please take a moment to read Kiana's letter about Kimmy found below.
In September 2017, Kim was admitted to the ICU for a liver infection, a complication that developed after she was treated for Stage 2 breast cancer. Intent on getting Kim the best care possible, Mr. Said reached out to Dr. Robert Gish, MD, FAASLD, in addition to the other doctors who were treating Kim.
"After I sent him a letter explaining her condition, Dr. Gish immediately called me and started advising me toward the right direction. His specialized training in the liver enabled his excellent care and he went above and beyond professional responsibility. He valued Kim's life and treated her as family," Mr. Said explained.
Unfortunately, after being in and out of the hospital for several months, Kim was re-admitted to the ER at St. Rose Dominican Hospital-Siena Campus, in Henderson, Nevada, and went into a coma on Christmas morning. She passed away on December 26, 2017 surrounded by family and friends.
Through Kimmy's Liver Research Fund, you can help Mr. Said and AASLD Foundation invest in innovative hepatology research and the people who study and treat liver disease.
To contribute to the Fund, visit the Foundation donation page. If you would like to learn more about the Fund and the Foundation, contact AASLD Development Manager Erin Clements at eclements@aasld.org.
Remembering my stepmom, Kim T. Ostrom
I want to share how important Kim was to me. Kim came into our lives when I was 8 years old. As a child in a divorced family you hope for many things, but above all you hope that your parents are never lonely and that whoever they find will be a comforting fit in your life. Kim was that and beyond.
From the moment she was in our lives there was a constant happiness for us. She made to sure celebrate every holiday for us -- whether it was St Patrick's Day, Valentine's Day, or Canadian Thanksgiving -- there would always be a basket of "goodies" on our beds. The most thoughtful human you would have ever met. She had a heart of gold. She got added excitement to everything and created life long memories for us. She embodied what you would hope in a stepparent – she became our best friend, our confidant, someone we could go to and share anything without any judgment. Someone who would be our advocate, who would cheer us on, the peace maker, the mediator and the soft soul that we needed.
There was never a day Kim wouldn't be smiling when I greeted her, no matter the situation or what she was going through. What I appreciate most about Kim is she never made me feel too young, she gave me the same respect she would give to anyone else, she respected everyone equally.
She would have wanted everyone to be kind to one another, to be compassionate. To take in a stray animal if you saw one. To feed the animal and love it like your own. To give it a home, and a comfy couch with a bed. To speak to your Mom and Dad often if you have them. To make amends because tomorrow is never promised. To be positive and to not complain about the small stuff, and carry your head high even on your worst days. She would want you to speak to who you love often, no matter the circumstance.
"My world. I will think of your smile and laughter every day for the rest of my life. While these past months without you have not been easy, I know you are above, my guardian angel, looking down on me in peace. I love you with all my heart.
You were the reason for so many fond childhood memories. Thank you for constantly stocking the pool with new floaties and Capri Suns in the fridge, and making sure our summer days at home were above and beyond. No one asked you to do these things, but out of the kindness of your heart, you did them.
Thank you for picking me up after school before I got my license, for taking me to my move in day at UCR, for giving me life advice I will never forget, for cheering me on through grad school, for teaching me how to decorate a home like a hotel, for teaching me how to love cats, for being the reason I know so many oldies (thank God for Sunday morning CD sessions, Kim owned 500 CDs and more). Thank you for teaching me how to be a peaceful and compassionate human being without expecting things in return from people. Thank you for adopting a role and going above and beyond with it. You made my life better and happier.
I promise to carry on your love of Elvis, to take care of "Pirogi" like a queen, and to take on your values throughout my life. I will cherish the moments I shared with you from when I was 8 years old to now. Rest in peace forever angel!"
Kiana